PURItech
Clean Air for Generations
The PURItech GmbH & Co.KG distinguishes itself through many years of experience in the field of exhaust gas treatment and emission reduction applied in diesel engines. With innovative, market-driven and reliable high-quality products, PURItech is one of the top specialists for the treatment of exhaust gas in the European market. Particularly the versatile know-how in " diesel particle filter technology" as well as extensive experience in the equipment of commercial vehicles, construction and work machines, transit buses and off-road machinery, is our company's main focus of expertise. This creates the basis for the professionalism of the entire team.
We strive to create products with the maximum of effectiveness and quality through specific planning of all necessary measures before, during and after the processing of the order as well as systematic quality control in every step of the manufacturing process. Qualified staff in all departments of the company is precisely monitoring the compliance of statutory provisions throughout the production phase. The zero-mistake-strategy has top priority in our combined efforts to increasingly minimize possible sources of error and to optimize the quality of the products and the seamless transition within the production process.
ESW Group
We are an Emissions Focused Platform
ESW Group® manufactures and markets a diverse line of proprietary catalytic emission conversion, emission control and emission support products and technologies for the transportation, construction, rail, marine, utility and other markets. These products are primarily designed for diesel engine applications including medium and heavy duty trucks, school buses, delivery vehicles, garbage collection vehicles. In addition to land vehicles, ESW Group technology is used in large marine engines. The company sells its emission control products through an established network of over 30 dealerships located throughout the United States, which is complemented by a team of seasoned emissions focused business development professionals, engineers and field technicians.
ESW Group also operates ESW America, an engine emissions testing, certification and verification facility which is recognized by EPA and CARB as capable of performing engine emissions verification and certification test protocols for the OEM supply chain. To learn more about ESW America, visit eswamerica.com.
ESW Group is present throughout North America, including Pennsylvania, California and Ontario, Canada. ESW Group operates two manufacturing facilities spanning the United States continent, including a 20,000 square foot space located in Montgomeryville, PA and a 18,000 square foot facility located in San Diego, CA, that are dedicated to the production and assembly operations of its market leading Level III+ CARB verified diesel emission control devices. In addition, ESW Group operates a 15,000 square feet emissions testing laboratory with eight test cells ranging from a UTV/ATV and motorcycle chassis dynamometer, to a 1,000HP engine 1065 CFR compliant transient dynamometer. This allows ESW Group a vertically integrated approach to conceptualize, obtain regulatory approvals, manufacture and commercialize new emissions based solutions for an ever changing marketplace.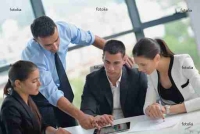 Presbia
Presbia is a medical device company focused on the development of the presbyopia-correcting Presbia Flexivue Microlens™ - an innovative solution for the common age-related loss of the ability to read or focus on near objects. The 3 mm diameter lens is implanted in a corneal pocket created by a femtosecond laser.
This solution responds to the market's need for a surgical procedure that is safe, effective, quick, and easy to learn and implement. The Presbia Flexivue Microlens™ solution relies on surgical equipment already in use at most eye surgery centers. Most distinguishing, the Presbia Flexivue Microlens™ is designed to be removable, meaning that the lens can be removed and replaced without any residual effect on the eye.
If you wish to purchase from our products, that Dagesh will be your distributor in Israel, or in any other question, don't hesitate